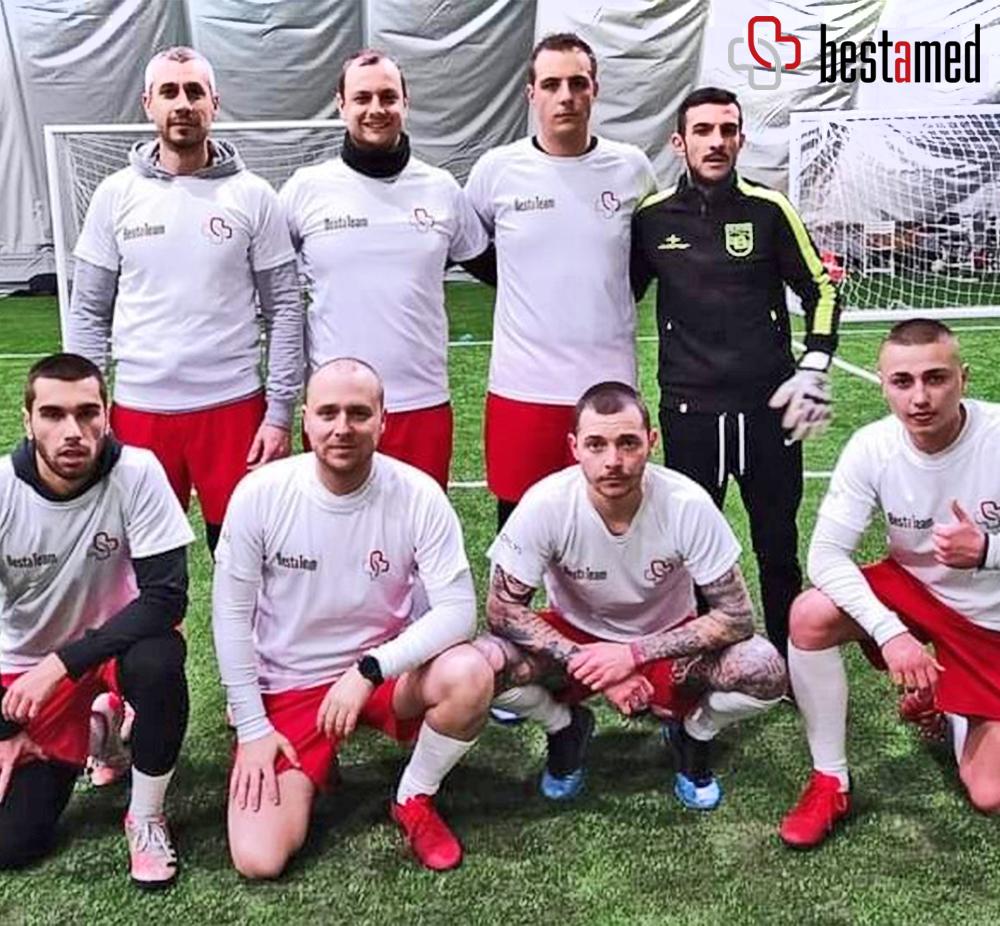 Besta Med strengthens its mission to develop ethical and sustainable business through continuous investment, training and development in its team of professionals. Guided by the belief that moral principles are our highest priority, we rely on team play, both at work and in our time together.
One of the symbols of fair play is football. The most popular sport has embraced the idea of ethics and justice in its elite circles. This is the basis of the BestaTeam created by BestaMed.
BestaTeam is the football team of Besta Med, comprising 17 people from our team. President and coach of the team is Ivo Chepreganov – Fleet Manager in the company. The team participates in the League 2 championship of the Amateur Mini Football League and you can see here our average AMFL index.
BestaTeam aims not only to stimulate our team to play sports and lead a healthy and active lifestyle, but also to bring cooperation and fair play on the field to work. The discipline and ethics that sport teaches are an invaluable asset of our company and they distinguish us in the colorful competitive environment that we believe we are changing for the better with our example.
Our football team was created in 2021. It builds on the other areas of our social responsibility as a company. In 2013, Besta Med created Besta Med Forest, and a few years later we developed the concept of health and well-being of our team members with BestaChallenge.
Besta Med believes in personal growth. Each one of our team members is unique and it is our responsibility to help unleash their potential. We invest in people by building the right environment for their personal growth and creating exciting opportunities for professional development.
We have created Besta Med Academy with the philosophy of continuous training and development of our team's abilities. Abilities, in professional and personal life both. Our goal is to build sustainable values that position each person as a meaningful, valuable and beneficial member of the society we live in.
We started with one common critical topic – safe driving to make roads safer for the citizens of Bulgaria. For several years we have been conducting safe driving courses under the leadership of Dimitar Iliev – 8-time rally champion of Bulgaria at the Safety Driving Academy. We do it because our team members are on the road every day and we believe that the good example is contagious.
BestAcademy will continue to develop with training and acquisition of knowledge and skills in more useful and important areas of life. Because we strive to live together in harmony.